5 Ways To Stage
It's simple. Whether you're in Fergus Falls, Fargo, Alexandria or New York City… staging sells houses. Too often when talking about real estate, the agent forgets to have that critical conversation with their sellers.
Maybe the agent is uncomfortable. After all, people's homes are very personal to them, and the last thing we want to be is insensitive. Maybe the agent assumes the seller will know what to do. Or maybe your experienced agent is so good at looking past staging—after all, that's their job—that they fail to remember how important those first impressions are to buyers.
The good news is that staging isn't complicated and doesn't have to be expensive to be effective. With just a few simple tricks you can make sure your home is shown in the best light possible, which gets you more money and a faster sale.
Don't Take It Personally. Yes, this is actually a tip, and quite frankly, the hardest one to follow. Don't take it personally means when your agent gives you advice on staging, don't take it as an insult. Appealing to the maximum amount of buyers is the goal, and your agent is the expert in knowing what that takes. Don't take it personally also means going through each room and storing the majority of "personal" items while your home is listed. Photographs and collections are a couple of examples here. It's hard for buyers to visualize themselves in your home with your Great-Aunt Edna staring them down and your collection of 409 souvenir shot glasses crowding the fireplace mantel.

Put It Away. As long as we're talking about crowding, one of the most important things you can do to stage your house is to de-clutter. Overcrowded spaces make rooms seem darker and smaller, and shift the buyer's focus to your belongings rather than the rooms themselves. Removing excess items makes your home feel open and more spacious, and lets the buyer envision where they would place their own belongings.

Turn On The Lights! When your agent schedules a showing, remember to turn on lights—both interior and exterior—if the showing is in the late afternoon or evening, and any time of day in dark rooms without windows (like basements). Entering a well-lit space is more comfortable and inviting, and you definitely want potential buyers to feel comfortable in the home. If the showing is during the day, open the blinds and curtains.

What's That Smell? Here's one that can certainly be awkward to approach with a homeowner. The simple truth is, a lot of houses smell. Unpleasant odors in a home are one of the most common pieces of feedback we hear after showings. Pet odors, smoke and food smells top the list. As a seller, you need to make some conscious decisions about how to handle the odors in your home. Shampooing carpets and furniture can help. If at all possible, you should try to remove the things from your environment that cause strong odors while your home is listed for sale. In some cases I know that can be a real challenge, but the fact remains: Smells don't sell. Trying to cover up the smell with something more pleasant rarely works. Some people have also had success with air purifying machines like this one: http://www.rabbitair.com/pages/minusa2-air-purifier

Curb Appeal. You know the saying: You never get a second chance to make a first impression. Making your home attractive and inviting from the outside is absolutely critical. Some buyers will pull up outside a home and decide on the spot to not even go inside. A little can go a long way here: Keep the lawn mowed and landscaping trimmed, and driveways and sidewalks cleared. A pot of flowers, or something similar, is also a nice touch. And again, for those showings late in the day, turning on lights makes pulling up in the driveway feel much more like coming "home."
Following these simple tips is a great way to make sure buyers see all the best features of your home. For more tips, or a personalized consultation from one of our agents, give us a call today!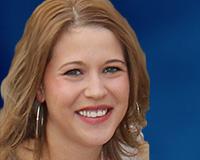 Author:
Kristin Funkhouser
Phone:
218-770-6091
Dated:
June 23rd 2016
Views:
1,797
About Kristin: Raised in Fergus Falls, Kristin first received her real estate license in 2006. After spending sever...